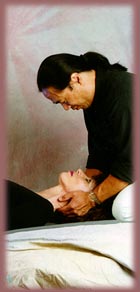 Home
Pain Away - Low Back &


Hip Workshop
Pain Away - Neck &


Shoulders Workshop
Ultimate Neck &


Shoulder Workshop
Ultimate Foot &


Hand Workshop
Testimonials
Therapeutic Massage
On Site Chair Massage
Tai Chi Classes
Ergonomics
Biography
Jason's Couple's Shiatsu Massage-Ancient
Art of Healing and Stress Management
In This Three Hour Workshop Each Partner Will Learn:
How to perform an easy-to-learn, 30 minute, full body sequence.
Techniques specifically for painful shoulders, neck and lower back.
Energy work for headaches and to stimulate stagnant chi.
Intimacy through healing touch.
Includes video and illustrated class handout.
Workshop fee: $85-$110 per couple or pair
(fees vary depending on location)
Invite your mate, family member or friend to learn this ancient, oriental art of nurturing, healing and intimate touch. The gentle rocking, pressing and stretching motions can be performed on the floor without disrobing or oils. Couple's Shiatsu is safe, fun to give and great to receive!
Pre-registration is required; space is limited. Please wear comfortable clothing and bring two sleep pillows and a bath or beach towel.
---
For dates & info. contact Jason at
(650) 968-8223
Email: jason@jasonchanproductions.com
Web page: www.jasonchanproductions.com
Registration, Fees & Directions
Pre-registration required (fees & dates are subject to change; call location to confirm)
Central YMCA, San Jose (408) 298-1717
City of Cupertino Parks & Recreation (408) 777-3120
City of Menlo Park Parks & Recreation (650) 330-2200
City of Milpitas Parks & Recreation (408) 586-3210
City of Palo Alto Parks & Recreation (408) 463-4900
City of Redwood City Parks & Recreation (650)780-7323
City of San Mateo Parks & Recreation (650) 377-4704
College of San Mateo (650) 574-6149
Courtside Athletic Club, Los Gatos (408) 395-7111
DeAnza & Foothill Colleges Community Education
(408) 864-8817
Eastwest Books, Mountain View (650) 988-9800
El Camino YMCA, Grant Rd, Mtn View (650) 969-9622
Northwest YMCA, Cupertino (408) 257-7160
Pacific Athletic Club, Redwood City (650) 593-4900
Palo Alto Family YMCA, Palo Alto (650) 856-9622
Pleasanton City Parks & Recreation (925) 484-8160

---
Couple's Shiatsu massage workshop is also available for private groups of two couples or more