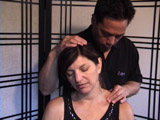 Home
Pain Away - Low Back &


Hip Workshop
Pain Away - Neck &


Shoulders Workshop
Shiatsu Massage Workshop
Ultimate Foot &


Hand Massage Workshop
Testimonials
Therapeutic Massage
On Site Chair Massage
Tai Chi Classes
Ergonomics
Biography
"The next morning when for the first time in a very long time- I didn't wake up with a neck ache!"
Luisa & Dave A., San Mateo
Jason's
Ultimate Neck & Shoulder Massage
Eliminate the "Stiff Neck/Shoulder" Syndrome.
In a single, three hour workshop,
each partner will learn:
How to give your partner Deep Tissue, Heller work, Trigger Point, Thai and Acupressure techniques for chronic tight shoulders and neck.
How to regain neck "Range of motion" while relieving pain and headaches.
Self-help stretches for long-term retention of the therapeutic results.
Includes instructional video CD.
Workshop fee: $85-$110 per couple or pair
(fees vary depending on location)
Ultimate Neck & Shoulder Massage is safe, feels great and has lasting, healing effects.
No experience necessary. All techniques are performed seated without oils or disrobing. Massage therapist and health care
professionals are encouraged to attend. Partner required.
---
For dates & info. contact Jason at
(650) 968-8223
Email: jason@jasonchanproductions.com
Web page: www.jasonchanproductions.com
---
Ultimate Neck & Shoulder Massage workshop is also available for private groups of two couples or more